Edinburgh Airport Taxi and Transfers
Welcome to your complete taxi guide for Edinburgh Airport.
Get your taxi business in front of people traveling to and from Airport.
There are different options to suit you.
Add your Business
Browse Edinburgh Airport Taxi Services
The below taxi firms operate throughout Edinburgh as well as providing airport services. Read through their bios to find the right firm for your travel needs! Please note, calls to mobile numbers may be charged between 10p-20p per minute from landlines.
How much will it cost me to get a taxi from Edinburgh Airport to Edinburgh City Centre?*
Edinburgh City centre is roughly 10 miles away from the airport, and the journey should only take 25-30 minutes (depending on traffic and route taken).
| | | |
| --- | --- | --- |
| Vehicle | Single Trip | Return Trip |
| Saloon Car (up to 4 passengers) | £47 | £80 |
| Estate Car (up to 4 passengers) | £53 | £89 |
| Executive Car (up to 4 passengers) | £60 | £110 |
| People Carrier (up to 6 passengers) | £73 | £117 |
| Executive People Carrier (up to 6 passengers) | £83 | £139 |
| 8 Seater Minibus (up to 8 passengers) | £79 | £130 |
| 16 Seater Minibus (12 or 14 passengers, depending on luggage). | £153 | £279 |
* Please note that these prices are only estimates. Fares can vary depending on routes, taxi firm rates and time of journey. Please contact a firm directly for a quotation.
Where is Edinburgh Airport taxis rank?
If you have pre-ordered a taxi at the airport, you'll need to find the taxi rank! Head to the Pick-Up Zone on the ground floor of the car park. It's directly opposite the terminal and is pretty easy to find.
Need to find a taxi on the day? No problem. The same Pick-Up point at Edinburgh Airport also has City Cabs, which are the main black cabs operating in the city, and they should be able to take you where you need to go. They can accommodate 5-6 luggage with a reasonable amount of luggage room.
How do I get from the airport to the city centre with an Edinburgh Taxi?
Edinburgh City Council licenses two categories of taxis: the traditional black cab (or Hackney carriage as it is also known) and the Private Hire Car or minicab as it is often referred to. In both instances, airport taxis will have undergone strict testing so you can be confident that they are roadworthy and the drivers too will have undergone background checks.
Both minicabs and black cabs are available from the rank located on the ground floor of the multi-storey car park, directly opposite the terminal building. If you opt to pre-book a private hire vehicle, you can arrange for the driver to meet you in the arrivals hall. Just be sure to provide them with your flight information so they can keep up-to-date with any delays.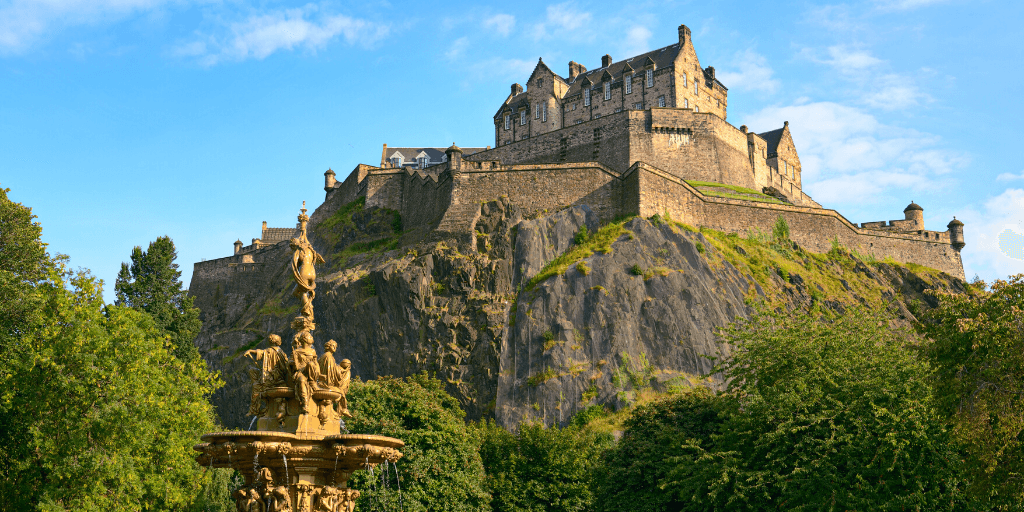 A taxi transfer into Edinburgh city centre will take around 25 minutes, depending on traffic conditions and will cost around £36*, although pricing varies from company to company and on the type of vehicle you're in. Many pre-booked trips will cost less than the metered fare and there are often special discounts available so it is well worth shopping around if you have time.
There are over 2,000 licensed taxis in Edinburgh so you will have a large choice, regardless of your party's needs. As well as the traditional size of the vehicle it is also possible to book a minibus seating up to 16. Many of the black cabs are wheelchair accessible, although a minority of taxi drivers are exempt from having to offer assistance to disabled passengers because of their own medical condition. Please check in advance.
Places of interest in and around Edinburgh Airport
Edinburgh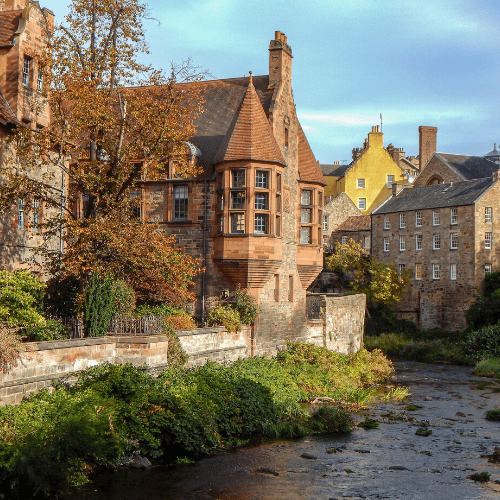 The beautiful and vibrant city of Edinburgh has something for everyone and is one of the most popular destinations in Europe for a city break. If you are interested in history, a visit to Edinburgh Castle or Palace of Holyroodhouse is a must or even a stroll from one to the other down the Royal Mile. If you are a political animal you will be interested in taking a tour of the Scottish Parliament building. Art lovers are spoiled for choice and there are invariably some excellent exhibitions in the city. Children and adults alike will love the high tech special effects of Dynamic Earth and the more traditional Museum of Childhood. Every August sees the city host the iconic Edinburgh Festival and, although the city heaves with visitors, it is an excellent time to visit.
Perth
Known as the Fair City, Perth is an interesting place for a day out or as a starting point for trips further afield such as to Oban, Glencoe and Mull. Why not take a taxi at Edinburgh Airport for 40 miles, a journey which takes around 55 minutes. Perth has much to recommend itself such as Branklyn Gardens which are particularly beautiful when the rhododendrons are in bloom, the Museum and Art Gallery and, for anyone interested in the Scottish colourists, the Fergusson Gallery. However, it would be a great shame not to visit Scone Palace too whilst in the area. This is only two miles north of Perth and has been the crowning place of many Scottish kings, including Robert the Bruce and Bonnie Prince Charlie. It was also the original home to the Stone of Destiny, now in Edinburgh Castle.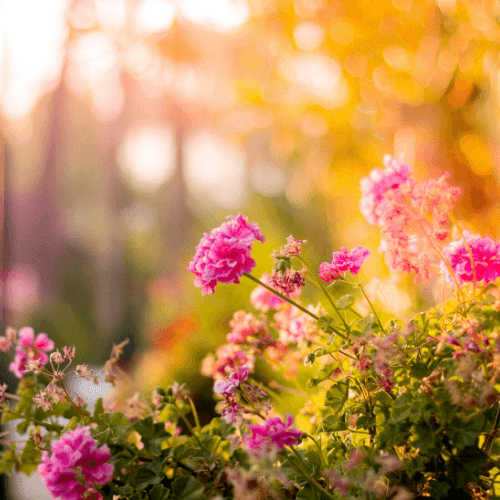 Rosslyn Chapel, Roslin, Midlothian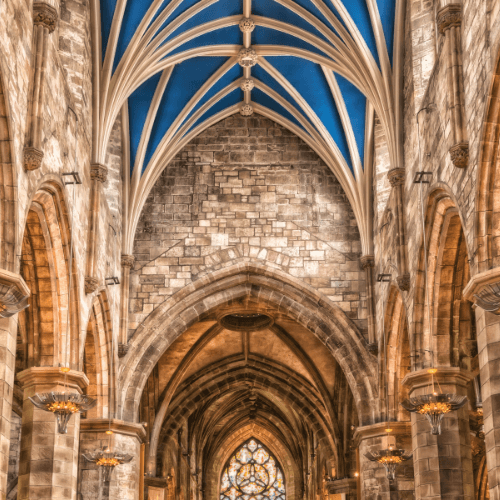 Popular with tourists, thanks to Dan Brown's novel, The Da Vinci Code, the chapel has strong links with the medieval Knights of the Templar and makes a fascinating place to visit. Close by is Rosslyn Glen which makes for an attractive walk, especially in spring when the bluebells are out. By car or in an Edinburgh Taxi, the 12-mile trip should take about 20 minutes.
Fife
If you fancy a day on the coast Fife is an excellent choice by Edinburgh Taxi. If you want a walk along the Fife Coastal Path or a game of football on a sandy beach try Lundin Links and Lower Largo. If you would rather potter about some of the tiny harbours of the traditional fishing villages try St Monans, Pittenweem and Anstruther. If you plan on having fish and chips at Anstruther's award-winning fish and chip shop get there early as large queues form before the shop even opens. St Andrews also makes an interesting spot to explore with its iconic golf club and ancient university. It takes around an hour and a quarter to do the 48-mile drive with one of our recommended Edinburgh taxis.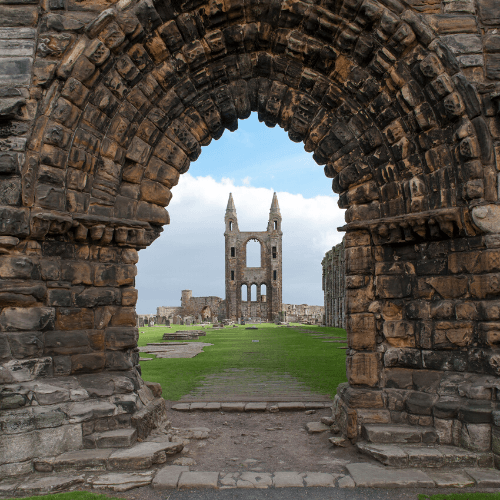 Maid of the Forth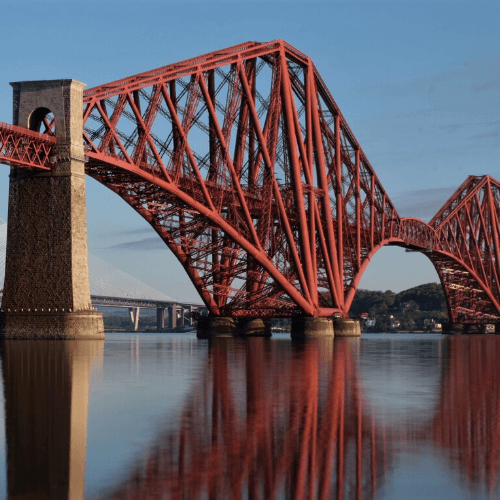 If you are interested in wildlife or would like to get up close to the magnificent feats of engineering which are the Forth Bridges, then a trip on the Maid of the Forth might appeal. The chances are that you will spot seals, puffins and other sea birds and might even be lucky with a dolphin or porpoise. See the Maid Of The Forth website for details. It should take only 15 minutes to drive the 7 miles to the boarding point.