Edinburgh Airport Special Assistance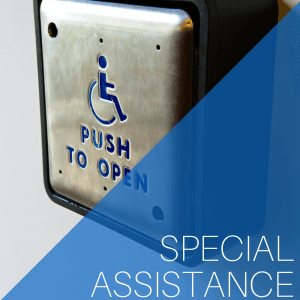 Edinburgh Airport is committed to providing the best service possible for passengers needing special assistance. Their dedicated desk can be found behind WH Smith in Domestic Arrivals.
What facilities do they provide?
Airport Security
You can find low-level benches on both sides of the security search area so that passengers can prepare and afterwards repack their things.
Should you need to carry any medication over 100ml, please let the security officer know. Also, make sure you have any supporting documents such as a doctor's note ready.
You may stay in a wheelchair whilst going through security. But this does mean you'll need to be full-body searched after and this can be done sitting, standing, or in a private room.
Departure lounges
They are wheelchair friendly and there are dedicated seating that can be found throughout the terminal for passengers that require them.
Changing Places
You can find their changing place near gate 16, within the restroom area. It has been carefully designed to cater for those passengers that require extra assistance. Please bear in mind that if you'd like to use their hoist, you'll need to bring your own sling.
Journey times:
For both arriving and departing Edinburgh Airport.
To the special assistance desk, these are the distances from the following points:
Check-in is located 35m away
Their Short Stay car park can be found 35m away
Drop off/ pick up zone can be found 150m away
Car hire centre is 340m away
Coach parking which will include bus transfer from their Long Stay car park is 300m away
Their tram stop is 180m away
To check in, these are the distances from the following points:
Special Assistance Reception is 35m away
Edinburgh's Short stay car park is 150m away
Pick up/Drop off area is 150m away
The car hire centre is 390m away
Coach park which will include the bus transfer from Long Stay car park is 360m away
Tram stop can be found 240m away
Distance from International Arrivals 2 and UK Arrivals hall to:
The short-stay can park can be found 200m away
The pick up/ drop off area is 200m away
Car hire rental is 390m away
Coach parking which includes transfer buses to Long Stay car park is 360 m away
Tram Stop is 240m away
Assistance Dogs
You're more than welcome to bring your assistance dogs inside the airport
If you'd like to travel with your assistance dog, please let the airline know when you're making the booking and find out what their requirements are.
If you're coming into Edinburgh with your dog, then please contact the airport's animal receiving centre with at least 48 hours notice so that the correct arrangements can be made for you.
You can call them on +44 (0) 131 317 7277 or email them at arc@extrordinair.co.uk
SignLive
Edinburgh is the first airport in the UK to introduce this service! It provides a quick way of talking with deaf or without speech passengers by connecting them to an online British Sign Language interpreter by a smart device.
This service is available throughout the terminal, making it easier for airport staff to talk with British Deaf people effectively.
Access guide
Edinburgh Airport has made many access guides that you can easily download and read. They've one on for specifically taking off, landing and a longer one for those with special assistance.
Assistance for those with hidden disabilities
Edinburgh Airport is proud to provide a number of provisions to assist those travelling with a hidden disability or additional needs. These include:
Pins and Lanyards to make staff aware that you may require additional assistance or time. Please request your preferred item by emailing the team on additionalneeds@edinburghairport.com who will happily post it to you. Alternatively, you can collect it on the airport on your day of departure
A quiet space is available for those that might struggle with loud noises so for those passengers, they can use the special assistance waiting area that can be found near gate 16.
Join the social story and document your journey! View the Social Story here.
There are also additional services available for other hidden disabilities which include factsheets compatible with most screen readers for those with sensory impairment, access to the Pins and Lanyards for those travelling with Ostomy bags and alternative screening processes for those travelling with a heart device.
In addition to the above, Edinburgh is proud to be the first UK airport to provide digital support to those who communicate via BSL. Located throughout the terminal you will find handheld devices that allow you to communicate to an airport representative.
Disabled Parking Edinburgh Airport
Disabled Parking Edinburgh Airport Except for Mid Stay, all the other car parks at Edinburgh airport have quite a lot of wider bays for the blue badge holders. All you need to do is follow the sign and you'll find these spaces. You'll get an hour of free parking to all the car parks, including their Pick up and drop off zones. There are help points available in all the car parks so you can easily get assistance, should you need it.