Edinburgh Airport Children's Facilities

Let's just say, it. Travelling with young children can be stressful! Keeping an eye on them as well as keeping them entertained can be exhausting before you've even left the airport! With this in mind, we have put together a guide to the children facilities in Edinburgh Airport so you can be informed before you arrive, as well as helpful tips on making the process easier.
Childrens facilities at Edinburgh Airport
Toilets and baby care
You can find bathrooms throughout the lounge so you find baby changing facilities behind Costa, Starbucks and another near WH Smith before security. As for after security, you can find baby changing facilities near Gate 11 and in front of The Enchanted Galaxy. There's also one close to Hugo Boss and Scottish Fine Gifts. Whilst there are many toilets located throughout the terminal. If you want a family washroom, you can find one by Gate 21, which is perfect if everyone wants to stay together. They also welcome breastfeeding throughout the terminal, however, if you want something a little more private, you can find a lockable nursing room that's close to Gate 21.
Eating
All restaurants in the airport welcome children; and most, both before and after the security checks, have special children's menus. The restaurants and cafes will be happy to warm up any baby food or milk for you, too.
Security
We all know that security can be difficult to get through even without kids. But if you're travelling with children, it can be challenging. So, to help with that, Edinburgh Airport has a dedicated Family Lane which you can use if you're travelling with kids that are under 12. If your little ones are sleeping, they can stay in a pram but they will have to be either carried or walked through when you reach the metal detector.
Edinburgh Airport Play Areas
Another way that you can entertain your children is to take them to play areas that you can find at Gate 2 and Gate 21. This will surely be something they will love and enjoy!
Shopping
There are a couple of shops that sell items suitable for children, such as WH Smith and World Duty Free. Alongside gifts, you'll find books and treats, too! Pop into Superdrug to collect baby milk, food and medication.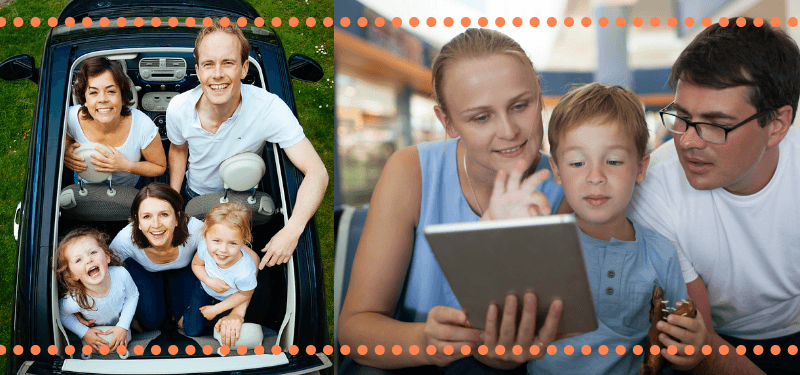 Our extra tips
We suggest taking a small selection of books and interactive games to keep the little ones entertained. Maybe even make up your own "Spotted in the Airport" game?
Or how about downloading the world colouring map from Edi the Edinburgh Pilot and take the kids on a world the world colouring trip?!
For more ideas and tips on travelling with small children, head over to the Flying with Babies and Toddlers Guide on Airport Parking Shop for a little inspiration!
If your children are slightly older, this guide to keeping the kids entertained could also prove to come in handy!
Should you require to hire a car whilst in the UK, please visit the Department for Transport website for more details on child seat laws in the UK.
Car Hire Centre also wrote an interesting article on whether or not car hire firms should provide ISOFIX car seat to hire when you rent a car. What are your thoughts?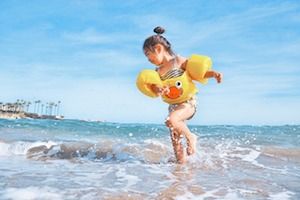 Booking Tickets for Your Baby or Toddler
Will your child turn 2 years old in between your outbound and inbound journey? You might be able to hold your child on your lap on your outbound flight, usually for free, but if they are over 24 months old on your return flight legally they will have to be travelling in an individual seat.
Airlines use different terms to define children by age. For example, British Airways say an infant is 0-23 months old, and a child is from 2 to 11 years old. When you are making an online booking, do not just assume that if the infant will be sitting on your lap, they won't need a ticket. Make sure you add them to your reservation. Once they reach 2 years old they will require a seat of their own.
Airlines also have rules regarding the age of newborn babies that are allowed to fly. Usually, the baby should be at least 48 hours old before they can fly. You may need to check with your airline if the infant you want to travel with is not yet born but you wish to make a booking for yourself.